How Covid-19 is Changing the Way We Work
Working remotely can be tough, but these tips can help.
Written by Haymme Marin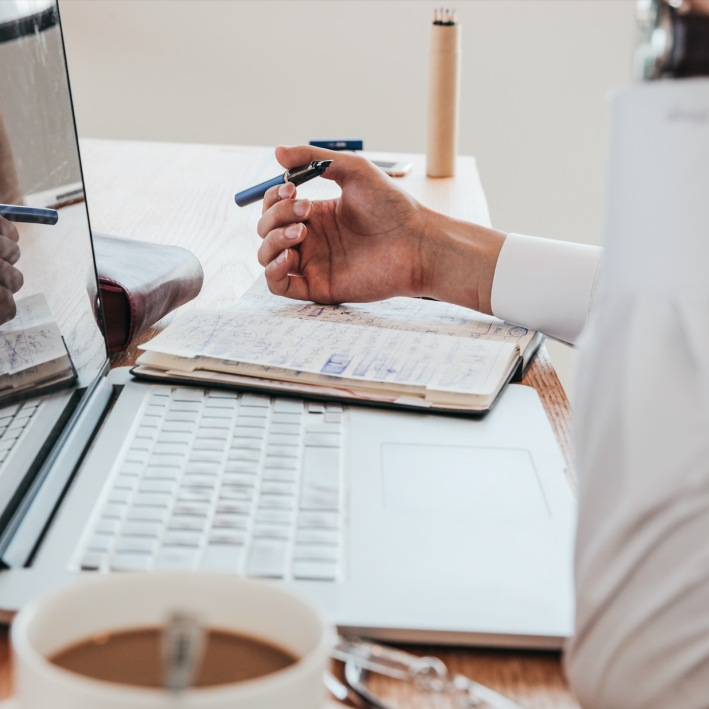 01 As many of us are working from home, the line between work and home life has been blurred.
02 Employees have to find a way, preferably with the help of their employers, to separate the two.
03 Here are some ways we can protect our mental health and stay productive while working from home.
2020 is the year we learned what "WFH" meant. In March, as Covid-19 began wreaking havoc on our lives, those who could transitioned to working from home. For working parents, this also meant adding the role of teacher to their to-do list, and for those living in multi-generational households maybe this meant becoming the caregiver to an elderly relative.
In addition to the new hats the working from home crowd have been wearing, we've also had to contend with the added stress of risking getting infected with the novel coronavirus anytime we've stepped out of our safe zones and, as the months passed, the uncertainty of whether we would continue having a job to do from home.
Despite all this, employees have still been showing up, even more so than before the pandemic. In a survey of more than 1,000 people currently working from home, 45% of employees said they've attended more meetings during the pandemic than when working in the office.
Another survey by LinkedIn found that on average, those working from home are working an additional 28 hours a month. Part of that can be attributed to employees feeling the need to prove to their employer that they are productive and worth keeping on board. E-presenteeism, or the feeling that you should always be available online and going above and beyond at work (while being home), can have negative effects on mental health and general well-being.
On average, those working from home are working an additional 28 hours a month during lockdown.
The line between work/life balance has been blurred and employees have to find a way, preferably with the help of their employers, to separate the two before they experience burnout and anxiety, something HR professionals fear will happen.
If you are part of the WFH populace, gone are the days of commuting to work, socializing and collaborating with colleagues and, for some, even getting dressed in the morning. While some offices have reopened in cities like New York, where we are based, many companies will continue allowing their employees to work remotely for the immediate future; in some cases, forever as Twitter and Facebook recently announced. The offices that do reopen and phase in employees will likely operate at a reduced capacity.
Since WFH may be here to stay, here are some recommendations to help make it a better experience.
Create a routine. This includes getting dressed in the morning, going for a short walk, grabbing your morning drink of choice to help you transition into work mode.
Designate a workspace. Having a separate area to work will help keep you focused.
Set a work schedule (and stick to it!). Treat your time as you would at the office, take breaks, step away for lunch and create an end of day routine to transition you out of work mode.
Keep the lines of communication open. One of the recurring issues with remote working is the increase in loneliness and feeling isolated. Reach out to colleagues, chances are many are feeling the same way and would welcome an impromptu chat about the project you're working on.
Socialize. Keep the company culture alive and find safe ways to socialize and decompress with your colleagues. If local health guidelines allow, meet up for a physically distant happy hour — just don't forget your face coverings!
Do a digital detox. Let's face it, even pre-pandemic we were spending too much time on our electronic devices. Screen fatigue is real and taking some time off can help reduce anxiety.
Look into teletherapy options. Due to Covid-19, there's been an increase in people showing symptoms of depressive and anxiety disorders. While in-person therapy may not be possible in most of the country, teletherapy is definitely worth exploring.
Check out digital peer support groups. If you're not ready to speak with a therapist, then a peer support group may be the way to go. Peers can provide support and guidance, and it can help to know you share the same experiences.
About the author
Haymme is a copywriter and translator based in New York. She is a mental health ally who believes in the power of mindfulness and is currently working to introduce a program at her daughter's school.
Support our work
We're on a mission to change how the world perceives mental health.