Introducing Swirl 2.0: An Interview with Andy Walton
The founder opens up about their new member platform, and how he copes with anxiety.
Escrito por Lauren O'Shaughnessy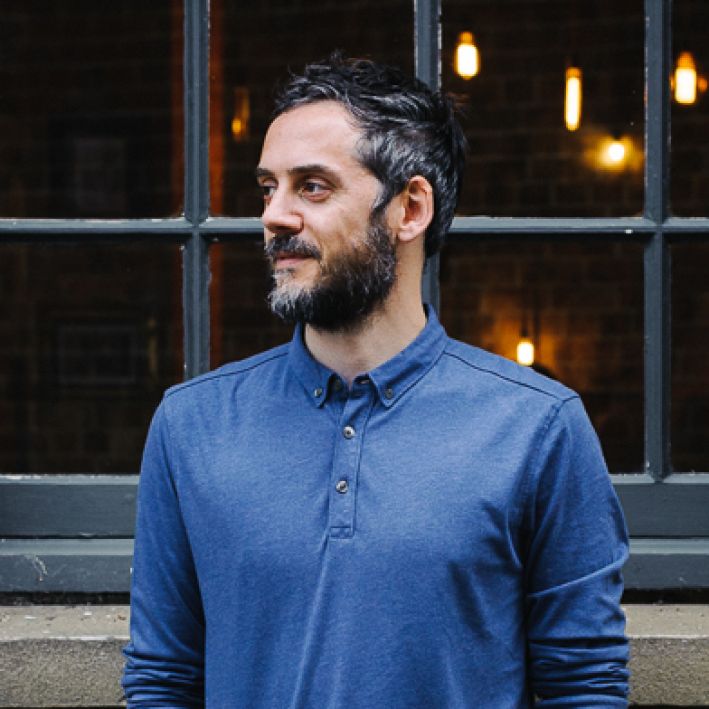 A Google images search for "mental illness" produces some predictable scenes — people crouched in corners clutching their heads in anguish, anatomical brains surrounded by chemical compounds, silhouettes of sufferers gazing out windows in search of someone who understands.
The sentiment is clear: mental disorders bring isolation and fear into the lives of those affected. But the visualization doesn't resonate. People battling mental disorders don't want to be shrouded in darkness, they want their stories listened to and their insecurities addressed. They want relatable faces attached to an often faceless movement.
In this Q&A series, we help sufferers emerge from their figurative corners, by letting them describe their thoughts, feelings and experiences in their own words. And in doing so, diversify a conversation that is often formulaic and misleading.
Tell us about yourself — who are you, where do you live, what do you like.
My name is Andy Walton. I'm 35, work as a community mental health nurse for the military/veteran charity, Combat Stress, and I'm the Founder of Swirl. I feel that being fulfilled by what I do for eight-plus hours a day, frees my brain up in my spare time. Swirl is a passion project — a hobby that is developing into a global brand.
I live in Tynemouth, Newcastle, with my wife, my beautiful 3-year-old twin daughters Aria and Verity, and our cat Claude. My time is focused on family and ensuring we are engaging in a lifestyle full of fun, learning and healthy activities.
I have always loved being a member of things, as a kid it was The Dandy and the RSPCA, and now, we have a family membership for The National Trust. Maybe that's why I have taken Swirl in a direction of membership - so others can participate in its message.
Have you ever been diagnosed with a condition? If so, how long did it take and what barriers did you face?
I have struggled with anxiety for 20 years, since Secondary School really. I didn't necessarily battle to reach a diagnosis, but the process of learning about my symptoms and how to manage them was a journey that took a long while.
I've been lucky to be well supported in my life and have had access to Cognitive Behavioural Therapy, as well as mindfulness courses, counselling sessions, medication, and the like. But with mental health being an invisible condition, it's not always easy to recognise the signs that you're struggling or developing unhelpful behavioural patterns.
In terms of barriers, I have noticed in my professional practice that a lack of awareness around these signs can cause delay in diagnosis and treatment. But times are changing, stigma is reducing and this awareness is starting to develop.
What coping tools help you manage your condition? What advice would you give to fellow anxiety-sufferers?
Learning about myself, the nature of anxiety, and the reasons I might think and feel a certain way, have been key steps in coping with my condition. I have since developed my own wellbeing toolkit that includes thought logging/labelling, mindfulness techniques, running, setting goals and proactively planning a balanced lifestyle.
Developing personal insights and a sense of empowerment by working through your own wellbeing toolkit, is an important aspect of moving forward, but it's a process that can take time. I would say reading self-help materials and personal stories is an important part of being able to think outside yourself and recognise negative traits. For years, I felt mental health was a big complex issue that needed a complex solution, and now I appreciate that feeling resilient has a lot to do with the simple things.
A big first step is talking about what is going on inside your head, and being able to recognize and reflect on your own unhelpful thinking patterns and behaviours.
In terms of tools, we need to remember we are all different and different things work for different people. It's important to try and get the basics right as much as you can. Appreciate the importance of good diet, exercise, connecting with others, being mindful and finding balance. Unfortunately, when we are struggling with our mental health, these are often the first things that fall by the wayside.
Trying to proactively set goals and plan a balanced week can help you put these things into place. Once you have the basics down, you can then develop tools that manage the physical and mental side of anxiety, such as CBT, mindfulness tools, and grounding techniques that bring you into the here and now. Then, it's about action planning solutions, engaging in flow, and not letting yourself ruminate unproductively.
You're the founder of Swirl, a social organization that aims to break down mental health stigma and encourage dialogue. Can you tell us a bit more about the project and its goals?
Swirl is an outlet for those wishing to overcome overthinking in positive, proactive and practical ways. By prioritising print materials and in-person meet ups, we are cultivating a network of individuals across the U.S. and U.K., who are eager to come together and share what works for them. We feel that in a social media world, positive face-to-face communication is more important then ever.
The goal of our new membership platform is to connect people to the movement and further opportunities for managing their worry. We want members to feel part of a compassionate, forward-thinking and open-minded community.
We are passionate about breaking down barriers and encouraging dialogue in everyday spaces not usually entered by mental health-specific services.
What lessons have you learned since starting Swirl? Why are projects like it so needed in the mental health space?
The project started as a printed guide in 2018, that provided evidenced-based, yet easily digestible and aesthetically pleasing mental health literature. The idea was based on the notion that when you're in the midst of negative overthinking, you lack the concentration and motivation to engage in lengthy self help advice.
We wanted the Swirl guide book to be tangible and to have a calming sensory impact by offering an artistic alternative to the lengthy literature and stock photography used in most mental health resources. We wanted to empower those who don't, or can't, read longform writing to learn about their mental health.
The public response indicated that a lot of people thought this was missing as well. We've struck a chord with global audiences and have evolved into a social movement in our own right, through which educational materials are being shared and conversations are breaking down the secrecy around mental health. This year, we've hosted a panel at the Tate Modern, workshops for entrepreneurs, and a course for a school impacted by the Grenfell Fire.
The journey of developing Swirl over the last two years and connecting with like-minded individuals has given me hope that things are changing. Stigma around the subject is clearly reducing and more and more people are proactively engaging in mental health support at an earlier stage. Which is wonderful.
To check out Swirl, head to their website here, or follow along on Instagram and Twitter.
Sobre el autor
Lauren is the editorial director and cofounder at the Made of Millions Foundation. She has been a part of the team since its launch in 2016. She has been open about her personal struggles with Generalized Anxiety Disorder and social phobia. You can follow her on Instagram at www.instagram.com/internet_lauren.
Apoya nuestro trabajo
Nuestra misión es cambiar la manera en que el mundo percibe la salud mental.