Bad Things Don't Always Last: An Interview with Dior Vargas
The Latina activist discusses stigma, access to care, and her latest project.
Escrito por Lauren O'Shaughnessy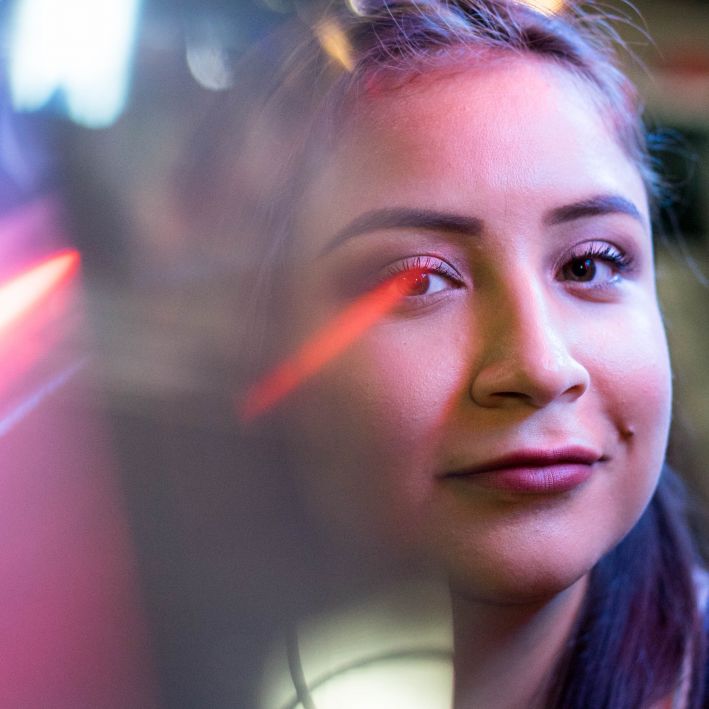 A Google images search for "mental illness" produces some predictable scenes — people crouched in corners clutching their heads in anguish, anatomical brains surrounded by chemical compounds, silhouettes of sufferers gazing out windows in search of someone who understands.
The sentiment is clear: mental disorders bring isolation and fear into the lives of those affected. But the visualization doesn't resonate. People battling mental disorders don't want to be shrouded in darkness, they want their stories listened to and their insecurities addressed. They want faces, relatable ones, attached to an often faceless movement.
In this Q&A series, we help sufferers emerge from their figurative corners, by letting them describe their thoughts, feelings and experiences in their own words. And in doing so, diversify a conversation that is often formulaic and misleading.
Tell us about yourself — who you are, where do you live, what do you live.
My name is Dior Vargas and I'm a Latina-feminist mental health activist. I was born and raised in New York City and I'm currently a student at NYU. I'm graduating in May and getting my masters in Public Health Policy.
I feel like this is the typical millennial response, but I like watching Hulu and Netflix. I just really enjoy going home, getting in pajamas, and watching TV with my loved ones. Trying to find ways to stay calm in what can be a very hectic space. Internally, but also externally with what's going on in the world around us.
Have you ever been diagnosed with a condition? If so, how long did it take and what barriers did you face?
I was first diagnosed when I was in high school. That was with major depressive disorder. A few years later I got diagnosed with anxiety and then a few after that - which was the most recent - I was diagnosed with borderline personality disorder. However, I was later told that I only experience some traits of it.
Physically, my treatment has involved going to therapy and taking medication. That combination has been a perfect mix of what I need to feel better with myself. That doesn't mean that everyday is amazing. It varies and changes depending on what's going on in my life, but I'm constantly trying to be better and do better.
What stigma or cultural misconceptions have affected, or still affect, your recovery?
Mental health was not something that my family discussed. For instance, anything related to a suicide that had occured in the family was only ever hinted at. That was enough for me to know it had happened, but that we weren't going to go much further into talking about it.
There was this idea that mental illness is a white person's disease and that one would have to be privileged (which we were not) to take time out of their day and pay someone to talk about their problems. Or rather, complain about what's going on in their life.
It made me feel like this was something only I was going through, and that my problems were a sign of weakness. Because of that, while attempting to end my life multiple times from the ages of 8 to 18, I didn't utter a word to anyone. I didn't want to be a burden.
Also, hearing a lot about family members - in particular my grandfather who grew up in Ecuador - and the dire situations that they were living in. Having those as a backdrop made me feel like it was silly to be depressed.
I couldn't share what I was going through or what I was doing to end my life. It's been better recently because now this is something I do for a living. It's something I talk about all the time so it's not as taboo as it was before, at least in my family. I currently see a Latina therapist, but in the past, it has been difficult to find a woman of color or Latina mental health professional. I think that's another barrier that prevents people from having the opportunity to meet with someone who looks like them and speaks their language.
What's wrong with the current state of mental health care, both in your immediate community or on a broader scale?
Being in New York, there are more resources than other places. But even then, getting access to see a doctor and get a diagnosis, and then trying to see if that person is in-network or takes your insurance if you have insurance, and if you're on Medicaid or don't have any insurance at all, there are additional hurdles. Those are a lot of barriers.
It can be hard to find a mental health professional that's in your area or works on weekends or after work. Lack of culturally fluent health professionals is huge, especially if they're not a person of color. And that doesn't mean that being a person of color rids you of the responsibility of being culturally fluent. Just because I'm Latina, doesn't mean I understand the African-American experience. Making sure that people have that training and have that understanding of how important it is to acknowledge people's backgrounds to inform and benefit their therapy. Also in terms of immigration, people are afraid if they're undocumented and need help.
There are a lot of things that need to be fixed within the mental healthcare system and healthcare system in general.
What coping tools help you manage your condition?
I talk a lot about my experience and I think that can be really helpful. Connecting with my sister, connecting with friends, especially my partner. I live with him and he's an extremely supportive individual. To be able to be open and honest with him and not feel afraid. To show him the parts of me that maybe I'm not as proud of. That's really important.
Also, just finding ways to get my mind off things. So watching TV shows or movies. My activism has helped me cope and get a better understanding of what's going on. Knowing that whatever I'm going through is more than just me, and trying to use my experience as a way to help others. The personal is political and whatever I'm going through, there are political implications and I'm not the only one dealing with them. Pushing to make a larger systemic change is something that really keeps me going.
You've been an outspoken advocate for years with an emphasis on addressing mental illness amongst people of color. I know that in 2018 you published the Color of My Mind which was a photo essay based on your viral series by the same name. Can you talk a bit about the goals you had for that book and the response you've received since publishing it?
I started the People of Color & Mental Illness Photo Project in 2014 and it went really well. But a lot of the photos that were submitted weren't as high resolution, and when I printed them they were grainy and fuzzy. The quality wasn't doing justice to those stories, so I decided to publish a book where I would work with a photographer and interview people.
Luckily, I got fully funded through a Kickstarter campaign and interviewed 34 individuals. For me, it wasn't just about doing justice to their stories. I wanted to find a way to make the conversation more accessible to people, and have it in places like community based organizations or counseling centers where people can have a book right in front of them. They don't have to know about a website or what to Google.
It was published in July of last year, so it's pretty new. I've been in grad school which has prevented me from doing a full-fledged campaign. For right now, I'm trying to bring it to speaking engagements and make it as available as possible.
Photos can really tell a story. I received a lot of great feedback after publishing, and I'm hoping to receive even more when I have time to make sure that this book is in as many places as possible. I want these conversations to be had, because while there's been progress, there's still tons of stigma.
What advice would you give to someone reading this right now?
Go easy on yourself. Take your time. Know what your boundaries are, what your triggers are.
Prioritize your well-being and really think about what kind of advocacy you would like to do. But also know that if you don't start today, you can start in a month. Don't put so much pressure on yourself.
I know it can be hard. Know that what you're experiencing is valid, and that you deserve care and support. There might be times where you think people don't love you, but you'd be surprised that there are people that really do love you and are trying to find a way to support you.
Ideally, people ask "how can I help" because when you're in a situation like this, you don't always know how to support someone who's in pain. I'd recommend having some sort of crisis plan for when you're experiencing anxiety. Like a list that says "when I'm feeling this way, this is how I might act." Not only does that help a person that wants to be there for you, it helps you understand where you're coming from. Things get easier over time as you learn more about who you are.
Bad things don't always last. Good things don't last forever either. My depression goes up and down, so i've gotten better at pinpointing when it's about to go down, and knowing in those instances, that at some point, it will go up again.
You can keep up with Dior on Instagram, Twitter and Facebook. Learn more about her work on her site www.diorvargas.com.
Sobre el autor
Lauren is the editorial director and cofounder at the Made of Millions Foundation. She has been a part of the team since its launch in 2016. She has been open about her personal struggles with Generalized Anxiety Disorder and social phobia. You can follow her on Instagram at www.instagram.com/internet_lauren.
Apoya nuestro trabajo
Nuestra misión es cambiar la manera en que el mundo percibe la salud mental.